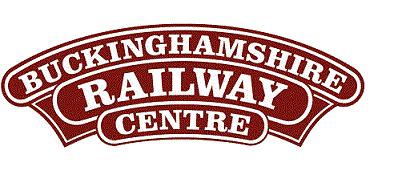 BRC Website Home
Quainton Virtual Stockbook
Quainton News Archive - Quainton News No. 19 - Spring 1974

Our Feathered Friend By our Nature Correspondent
---
Photo:
J R Fairman - Cock Robin O' Quainton
---
When A. Bird took the aerial photograph of Quainton which we reproduced in the September 1973 issue of 'Quainton News' we did not expect he would settle down as a resident at our depot. In recent months we have acquired a mascot - the finest red breasted cock robin you could find anywhere between Verney Junction and Aylesbury, complete with nearly true Metropolitan Railway livery at his front end. Stories have poured onto the Editorial desk about his exploits. There is no doubt he is a cheeky chappie and he wants to know all the details of what's going on. Early in January, as soon as the low loader which had delivered 76017 had withdrawn to a safe distance, Mr Robin arrived and examined the engine with great care. He finally pronounced himself satisfied with the new monster and has informed our correspondent that he is considering setting up home somewhere in the 'works'.
Members who have been regular workers at Quainton find they are accompanied by the Robin wherever they go on the depot. To avoid confusion and to quell any ideas that some of our friends have been seeing double, we can honestly say that there are TWO robins but No.2 is is less tame than No. 1. We are hoping to persuade one of the pair to occupy the up yard and the other the down side. In fact it seems more likely that the earliest bird will be taking over the station as his territory and No.2 will be expecting the Wembley shed to be finished for him to take up residence there!
Our Hon. Mem. Sec. tells us that No. 1 Cock Robin has been a regular visitor to the refreshment room and that he perches on the gas bottle and watches the soup being made. However, she assures us that there is no truth in the rumour that birds nest soup is to become a special feature of the Quainton menu and she will keep the feathers out of the teapot! Of course, it is possible that No. 1 and No.2 robins are male and female: nobody tells us these intimate details. If they are not so related then we can expect some fireworks in a few weeks time and, who knows, up to a dozen eggs in the two nests when Mother Nature has done her miracle. Perhaps we are witnessing the beginning of a long line of Quainton robins. And then we could have an engine called Erithacus rubecula. No? Then, maybe you'll agree to Cock Robin of Quainton. Sounds tweet!
---
Notes:
The text in this Quainton Railway Society publication was written in 1974 and so does not reflect events in the 40+ years since publication. The text and photographs are repeated verbatim from the original publication, with only a few minor grammar changes but some clarifying notes are added if deemed necessary. The photos from the original publication are provided as scans in this internet version of this long out of print publication.
Reference:
Our Feathered Friend By our Nature Correspondent - Quainton News No. 19 - Spring 1974
---
Text © Quainton Railway Society / Photographs © Quainton Railway Society or referenced photographer
Email Webmaster
Page Updated: 04 November 2017