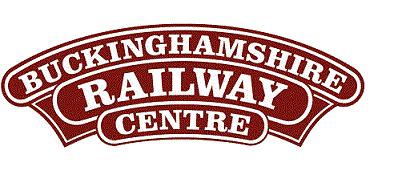 BRC Website Home
Quainton Virtual Stockbook
Quainton News Archive - Quainton News No. 72 - March 1993

Activity and Variety at Quainton Road in 1992
---
Photos:
Phil Marsh - Castle class 5029 Nunney Castle, on loan from GWS Didcot, heads the northbound ACE Aylesbury to Quainton Road, on August Bank Holiday
Phil Marsh - As is customary, Met. 1 provides the motive power for the Santa Steamings
---
Photos:
Phil Marsh - Thomas (on loan from the E Lancs Rlwy) is his usual happy self despite the menacing presence of the evil aliens (L to R) Dalek, Cyberman, Roboman
Peter Clark - Significant progress with 7715 (alias L99). Her boiler, newly refurbished by Pridham's of Devon, undergoes hydraulic testing.
---
Notes:
The text in this Quainton Railway Society publication was written in 1993 and so does not reflect events in the 20+ years since publication. The text and photographs are repeated verbatim from the original publication, with only a few minor grammar changes but some clarifying notes are added if deemed necessary. The photos from the original publication are provided as scans in this internet version of this long out of print publication.
Reference:
Activity and Variety at Quainton Road in 1992 - Quainton News No. 72 - March 1993
---
Text © Quainton Railway Society / Photographs © Quainton Railway Society or referenced photographer
Email Webmaster
Page Updated: 01 December 2017