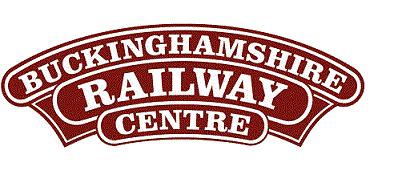 BRC Website Home
Quainton Virtual Stockbook
Quainton News Archive - Quainton News No. 98 - October 2007

Harley Chapter Congregates at the BRC - Sheila Lobley
---
Photo:
Dave Potter - Looking more like the forecourt of the Ace Cafe, the Harley Davidson ride out makes an interesting sight in the BRC car park
---
An increasing number of special interest groups and clubs have discovered the fine venue that is the BRC. These events make the Centre an increasingly good day out for the family as long as they know when they are on. Keep an eye out for Tony Lyster's regular email events calendar update and pass on the information to anyone who you think will be interested. Ed.
On Saturday 14th July, 53 of the III Chapter of the Harley Owner's Group descended on the Centre as the venue for one of their rides out. Director of the Chapter, 3 Counties Radio Presenter, Martyn Coote, said, Each year we look for somewhere different to ride to on our Annual Rally Rides. The Buckinghamshire Railway Centre was a great choice of venue, with plenty of good parking and first class catering, set in some of the country's most attractive countryside - we're looking forward to our next visit!
---
Notes:
The text in this Quainton Railway Society publication was written in 2007 and so does not reflect events in the 7+ years since publication. The text and photographs are repeated verbatim from the original publication, with only a few minor grammar changes but some clarifying notes are added if deemed necessary. The photos from the original publication are provided as scans in this internet version of this long out of print publication.
Reference:
Harley Chapter Congregates at the BRC - Sheila Lobley - Quainton News No. 98 - October 2007
---
Text © Quainton Railway Society / Photographs © Quainton Railway Society or referenced photographer
Email Webmaster
Page Updated: 01 November 2017