BRC Website Home
Quainton Virtual Stockbook
Quainton News Archive - Quainton News No. 102 - October 2009

1940's Weekend Report
---
The weekend of 15th/16th August saw the Centre taken back in time to 1944 with a military camp outside Rewley Road car park. Armed patrols and an impressive display of military vehicles contributed to the wartime scene. Visitors and re-enactors entered into the spirit of the occasion with generals, spivs and even a Churchill lookalike to be seen.
---
Photo:
Allan Baker - Wartime songs in Rewley Road as Fiona Harrison entertains the troops
---
A 1940's fashion show was held inside the Visitor Centre and visitors were entertained with the songs of the period. To round the event off, a demonstration firing display was held on the Brill platform. This was our first 40's event for some years and with good attendance hopefully it will be repeated soon.
---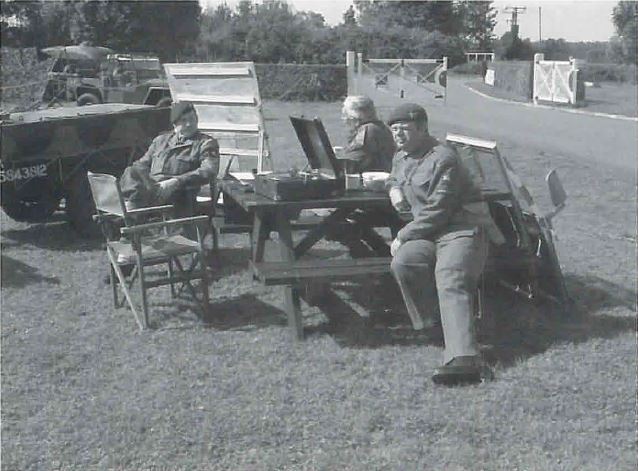 Photo:
Allan Baker - Troops on standby in the car park
---
Notes:
The text in this Quainton Railway Society publication was written in 2009 and so does not reflect events in the 5+ years since publication. The text and photographs are repeated verbatim from the original publication, with only a few minor grammar changes but some clarifying notes are added if deemed necessary. The photos from the original publication are provided as scans in this internet version of this long out of print publication.
Reference:
1940's Weekend Report - Quainton News No. 102 - October 2009
---
Text © Quainton Railway Society / Photographs © Quainton Railway Society or referenced photographer
Email Webmaster
Page Updated: 02 December 2017