BRC Website Home
Quainton Virtual Stockbook
Quainton News Archive - Quainton News No. 98 - October 2007

90 Years Young!
---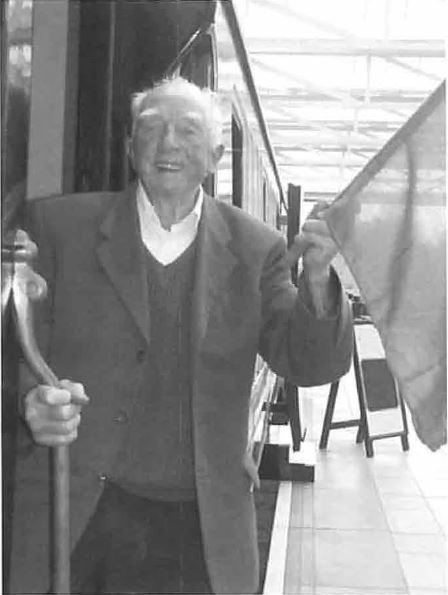 Photo:
Phil Ashworth - Charlie Horwood reacquaints himself with the guard's green flag
---
There was a surprise birthday party in Rewley Road. VAMES oldest working member, Charlie Horwood, was expecting a quiet day working on his pet project, the station at Denham Green.
He was lured away under the pretext of meeting a friend. Many friends in fact, as unbeknown to Charlie a special 90th birthday party had been laid on for families and friends and of course the birthday boy.
Charlie worked on the railways as a guard, on services from Aylesbury to Marylebone, so what better way of marking the event than to take up the guard's flag once more!
Quainton News would like to add our congratulations. We look forward to Charlie's ton up. Ed.
---
Notes:
The text in this Quainton Railway Society publication was written in 2007 and so does not reflect events in the 7+ years since publication. The text and photographs are repeated verbatim from the original publication, with only a few minor grammar changes but some clarifying notes are added if deemed necessary. The photos from the original publication are provided as scans in this internet version of this long out of print publication.
Reference:
90 Years Young! - Quainton News No. 98 - October 2007
---
Text © Quainton Railway Society / Photographs © Quainton Railway Society or referenced photographer
Email Webmaster
Page Updated: 02 December 2017